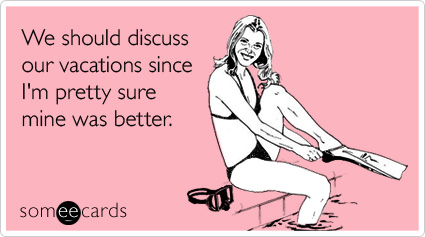 So, I guess you could say I've been MIA lately. The truth is, I just wrapped up the best summer since undergrad, and whelp, just neglected my little ole blog.
So, that being said, I will try to start the blogging again. Most of my classes this semester are painfully boring, so I'm sure I can find some time to update all of you on the life and times of KSS.
So, since June, here's what you missed.
Got a job at a law firm as a clerk. I have my own office. They have unlimited Diet Coke and Starbucks coffee. That's pretty much what sold me. Oh, and about two weeks into it, I came into work and there was an envelope on my desk with the words "Pay to the Order Of." Needless to say, I was really confused. Haven't seen one of those in a while.

Shortly after I got the fantastic news that someone was going to PAY me to learn, I found out I didn't get on the Law Review.

Took a loooot of vacays. Visited Kathy in Minneapolis, went to DC twice to visit Joe and meet a portly man in a black robe that works in a big marble building, and went to the Ozarks for a weekend of bachelorette debauchery. I left my dignity somewhere between party cove and Dog Days. Basically, I managed to consume an obscene amount of alcohol in three short months, and, well, it was awesome,

Got a fantastic tan. No really, don't judge, I pride myself on this. Everyone looks better tan. Oh, and blonde. See #5.

Chopped off all of my hair. I'm also back to blonde. Yes, I am definitely having more fun. The haircut looks a lil something like that Dianna Agron masterpiece above.

Met a boy in DC, who doesn't live in DC. Not gonna lie, was kinda smitten...as much as one can smit in a long distance fling. But don't worry, he turned out to be a wee bit of a sociopath. Read: lies about his mother having Cancer. Yes, really. I should've known when he said douchey things like "you're way better than Carrie Underwood." Good gad, I know how to pick 'em.

Bought a macbook. Still don't really know how to use it, but it's way better than my old Dell.

Signed up for the North Face Marathon. Didn't train a lick. Hence, didn't run a lick. Whoopsies. I'll run that fifth marathon one of these days.

Realized I don't really think I want to put people in jail anymore. I think I just want to sue people and make a shit-ton of money to pay-off the mountain of debt I've acquired over the last two years (see #7). See, told you law school would steal my soul.

Mi padre moved to Palm Desert. Yes, that means California. Woof.